Genre(s): Groove Metal, Industrial Metal,SHOCK METAL
Origin: 1998
Formed in: Haverhill, massachusetts; United states
Current label: Interscope recs.
Status: Active
Tracklist:
1. Burn 03:04
Total playing time: 03:04
DOWNLOAD
Rob Zombie - Sick Bubblegum [Single] (2009
01 - Rob Zombie -Sick Bubblegum (Radio Edit)
02 - Rob Zombie -Sick Bubblegum (Alternate Version)
03 - Rob Zombie -Sick Bubblegum (Explicit)
DOWNLOAD
Rob Zombie (born Robert Bartleh Cummings on January 12, 1965) is an American musician, film director, screenwriter and film producer. He founded the metal band White Zombie and has been nominated three times as a solo artist for the Grammy Award for Best Metal Performance.
He currently lives in Woodbury, Connecticut. He married longtime girlfriend Sheri Moon in 2002, whom he also frequently features in his horror films. Zombie has also established a successful career as a film director, creating the movies House of 1000 Corpses, The Devil's Rejects, the 2007 remake of Halloween, its sequel, and The Haunted World of El Superbeasto. His next film will be the upcoming Tyrannosaurus Rex.
He is the brother of Spider One (Michael David Cummings), lead singer for Powerman 5000.
Rob Zombie
Rob Zombie at 2007's Ozzfest.
Background information
Birth name Robert Bartleh Cummings
Also known as Robert Wolfgang Zombie, Rob Straker, Jesus, Heavy Metal Jesus, Dirty Jesus, Hobo Jesus
Born January 12, 1965 (1965-01-12) (age 44)
Haverhill, Massachusetts, United States
Genres Heavy metal, Groove metal, Industrial metal, Alternative metal, Shock metal
Occupations Musician, songwriter, screenwriter, film director, film producer
Instruments Vocals
Years active 1985–present
Associated acts White Zombie, Alice Cooper, Danzig, Powerman 5000, Charles Manson, Ozzy Osbourne
Website http://www.robzombie.com/
White Zombie (1985–1998)
Main article: White Zombie (band)
White Zombie was an American rock band named after the 1932 horror film White Zombie, which starred Bela Lugosi. Based in New York, White Zombie was originally a noise rock band in the vein of fellow New York band Sonic Youth and Texas Experimental Punk band Butthole Surfers. White Zombie was known for combining heavy-metal music with driving guitar riffs (as on "Super-Charger Heaven"), overlayed with lyrics heavily influenced by horror films and pseudo-Satanic imagery. Unlike other metal bands of the 1990s, White Zombie was almost exclusively a "fantasy" band, writing songs not about life but about the surreal. Following their signing to Geffen Records, White Zombie achieved commercial success, with two double platinum albums and a large number of their songs featured in movies and TV shows (notably Beavis and Butthead). The group officially disbanded in 1998 shortly after the release of lead singer Rob Zombie's solo album Hellbilly Deluxe. In a 2008 interview[4] to promote the release of Let Sleeping Corpses Lie, Rob Zombie made it clear that a reunion with his White Zombie band mates was unlikely, saying, "I don't want fans to think it's the beginning of anything." Zombie legally changed his name to Rob Zombie, his former stage name, in 1996.[5]
Solo career (1998–present)
In 1996, Zombie collaborated with Alice Cooper on the song "Hands of Death (Burn Baby Burn)" for the X-Files tie-in CD Songs in the Key of X. It was Zombie's first work outside of his band White Zombie. The song was nominated for a Grammy for Best Metal Performance the same year.
In 1997, Zombie contributed a song entitled "The Great American Nightmare" for the Howard Stern movie, Private Parts. Since January 6, 1999, it has been the opening theme for Stern's radio show.
Hellbilly Deluxe
Zombie formed his own solo band in 1998. John Tempesta (drums) came directly from White Zombie, and was joined by Mike Riggs on guitar and Blasko (Rob Nicholson) on bass. They recorded and released Zombie's debut solo album, Hellbilly Deluxe, in 1998, produced by Scott Humphrey. The album was a success, selling three million copies domestically. This album contained the hit singles "Dragula", "Living Dead Girl" and "Superbeast". The Dragula title was inspired by the '60s TV series The Munsters; the DRAG-U-LA was a dragster built from a coffin driven by Grandpa.
White Zombie dissolved after the release of Hellbilly Deluxe. Zombie toured extensively to promote the album, then released American Made Music to Strip By in 1999, an album of remixes from Hellbilly Deluxe.
The Sinister Urge
Zombie next released The Sinister Urge in 2001 (the title taken from a 1961 film by Edward D. Wood), again produced by Scott Humphrey. This release contained the singles "Never Gonna Stop (The Red Red Kroovy)", "Feel So Numb" and "Demon Speeding". While the album still featured Zombie's signature heavy metal sound, it was also more experimental than Hellbilly Deluxe, such as including brass instruments on "Go To California." The album has been certified platinum.
Zombie released his first greatest-hits album Past, Present & Future, in 2003, containing hit songs both from his solo band and White Zombie. It also featured covers (The Commodores' "Brick House" and The Ramones' "Blitzkrieg Bop") and unreleased songs ("Two-Lane Blacktop" and "Girl on Fire").
After a 2002-2003 world tour, Mike Riggs and John Tempesta left Zombie to form a similar band, Scum of the Earth. This put plans for another tour or new album on hold. Instead, between 2003 and 2005, Zombie directed and released two horror films, House of 1000 Corpses and The Devil's Rejects.
Educated Horses
In 2005, Zombie returned to the music world by recruiting former Marilyn Manson guitarist, John 5, and former Alice Cooper drummer, Tommy Clufetos. Blasko and Humphrey remained, and the five began recording Educated Horses. Released in 2006, Educated Horses is a break from Zombie's usual style. In contrast to the heavy metal sound of his first 2 albums, this one has a more alternative metal sound to it. The single "Foxy Foxy" can be described as his most "party-going" song. The other 2 singles, "Let It All Bleed Out" and "American Witch", featured his signature heavy metal sound. Also, for the first time, Zombie steered away from including horror references in the artwork and songs. Even his physical appearance is less of a persona (Zombie is dressed in regular clothes on the album cover, and his dreadlocks are gone). However, the songs "Seventeen Year Locust" and "The Scorpion Sleeps" do concern themselves with creepy-crawlies. Following the release of the album, Zombie toured the U.S. with Lacuna Coil.
20th Century Masters: Millennium Collection: The Best of Rob Zombie was also released in 2006 by his label, Geffen Records. It contains songs similar to his 1st greatest-hits album, but there are also songs on this release from Educated Horses.
On May 31, 2006, Zombie was joined by guitarist Slash (Guns N' Roses, Velvet Revolver), Gilby Clarke (formerly of Guns N' Roses) on rhythm guitar, Scott Ian of Anthrax on bass, Tommy Lee of Mötley Crüe on drums and special guest Ace Frehley of Kiss also on lead guitar. The occasion was a one-time supergroup tribute to Kiss for the first annual VH1 Rock Honors Award Show. They played one song, "God of Thunder," before handing it off to the honoree. Zombie then went on tour with Ozzy Osbourne.
Blasko, Zombie's bass player, left the band shortly before the American Witch Tour (the second leg of the tour to promote Educated Horses), to play bass with Ozzy Osbourne. To fill in, Zombie hired Piggy D. of Amen and Wednesday 13 fame as a permanent replacement.
In 2007 Zombie released Zombie Live, which was supposed to be accompanied by a live DVD & picture booklet. So far, only the CD has surfaced.
Hellbilly Deluxe 2
Zombie's follow-up to Educated Horses was still unnamed as of May, 2008. Zombie posted an update on his website stating: "Well, we have for the first time ever written more songs than we need for an album. Everything isn't 100% finished, but everything is moving along great. No release date yet." In August 2008, a new (instrumental) song entitled "Tyrannosaurus Rex" , featuring John 5 on guitar, was uploaded onto Zombie's MySpace music page. In an interview published in December 2008, Zombie spoke about his new band lineup ( John 5, Piggy D, and Tommy C), and how happy he was with his new band members, saying, "I've never had a band that I could call my good friends until now[4]."
Meanwhile, also in December of 2008, Zombie's new single "War Zone" was featured in the soundtrack to Punisher: War Zone.
According to reports, the latest album was done, just waiting on release. Piggy D. stated on a Metal Messiah Radio interview with DJ Lovely Laura that the band had been working on material since February 2008 and the album had been finished since late December 2008 with no release date yet. John 5 gave an interview to http://www.artisannews.com/ on May 28, 2009 about the new album saying, "It's finished. We do not have a title but it is finished and mixed. Not mastered but it is unbelievable. He says and people say it's his best work. So, I love it." He also stated that it should be out sometime later in the year. Rumored song titles (from MTV.com) were "Jesus Frankenstein" and "Sick Bubblegum".
Rob Zombie appeared on "The Howard Stern Show" on August 18, 2009, saying the new album is complete, although he has not yet set a title, and scheduled for release on November 10. That release date would later change to November 17, according to his MySpace blog. Eventually, the release date would be pushed back to Spring of 2010.
On October 3, Zombie posted a link to preview the track, "Sick Bubble-Gum" on his Twitter page.
The first new single "What?" was released on October 13.
Zombie released the next new song, "Burn" for Rock Band, as well as two old tracks, "Dragula" and "Superbeast" on October 27. They are available via Xbox Live and PlayStation Network as well as the Rock Band Store.
On October 29th, 2009, Zombie began the "Hellbilly Deluxe 2 Tour" in support of the (as yet unreleased) "Hellbilly Deluxe 2: Noble Jackals, Penny Dreadfuls and the Systematic Dehumanization of Cool".
Zombie has commented that Hellbilly Deluxe 2 may be his last physical record release due to the growing popularity of Itunes and other methods of music downloading, but stated he will continue to make music. Hellbilly Deluxe 2 was set to be his last album released through by Geffen Records, but in late October, Zombie announced that he had signed on to Roadrunner Records and will be instead releasing Hellbilly Deluxe 2 under that label in early 2010[6]
Rob has since announced, in an interview with DJ "Duece" on WRZX, Indianapolis, that his new album will be released February 2, 2010.
Other upcoming projects
Zombie is featured as a backing vocalist on the upcoming Lynyrd Skynyrd album God & Guns for the song "Floyd".
Film and television
Film career
Rob Zombie attending the 2007 Comic Con to promote Halloween.
House of 1000 Corpses was Rob Zombie's directorial debut and his first horror film. Zombie wrote the screenplay as well as directing the film. It took four years to make (1999–2003), and was finally released by Lion's Gate Films in 2003, after Stacy Snider, then-head of Universal Pictures, sold the film to them. It featured a great deal of violence and gore. The movie told the tale of a group of unlucky teenagers who stumble upon the Firefly Family, a family of sadistic and vicious murderers. The film was shot in a surreal and over-the-top style that alternated between dark and campy humor. The film was mostly panned by critics but had its share of fans.
The House of 1000 Corpses' sequel, The Devil's Rejects, which Zombie also wrote and directed, showcased a much different style. Whereas House was at times comedic and bizarre, Rejects was darker, more serious and grittier. Released in 2005, Rejects had the Firefly Family on the run from the law and a particularly vengeful sheriff whose brother had been murdered by them in the first film. It had a higher critical reception than Corpses. Zombie contributed to the 2007 exploitation film Grindhouse, by Robert Rodriguez and Quentin Tarantino by directing a faux trailer, called Werewolf Women of the S.S., starring his wife, exploitation veterans Udo Kier and Sybil Danning, and Nicolas Cage, who appeared free for fun.
Zombie next wrote and directed Halloween, a reimagining of the 1978 classic that was released August 31, 2007. Although it was a success and opened at number #1 at the box office with $26 million, it registered only 27% at Rotten Tomatoes.[7] It would go on to gross over $78 million, his biggest hit yet and the highest grossing "Halloween" film of all time (when not adjusted for inflation).
Zombie is the executive producer of the animated film The Haunted World of El Superbeasto, based upon his comic book series, The Adventures of El Superbeasto (which appeared in his Spookshow International comic book). The film was released directly to DVD on September 22nd, 2009. It features Paul Giamatti, Zombie's wife Sheri Moon, and Rosario Dawson.
Zombie directed a sequel to Halloween entitled Halloween II, which was released on August 28, 2009. Filming began on February 23, 2009 in Atlanta, Georgia with Tyler Mane returning as Michael Myers.[8] Zombie will next be directing a new movie for Dimension Films known as Rob Zombie's Tyrannosaurus Rex.[9] In an interview at Comic Con 2009 with his younger brother Spider One of Powerman 5000, Zombie stated that his album would be released in October with a tour following.
Variety Magazine announced the weekend before the release of 'Halloween II' that Zombie will be directing a remake of the 1950s/1980s films "The Blob".[10] Zombie will also create a new comic called 'Whatever Happened to Baron Von Shock?'.[11]
On 3 October 2009 received the Filmmaker of the Year title of the Chiller-Eyegore Awards[12].
In December 2009 he announced an interest to direct an episode of CSI.[13]
TV host
On Friday, October 13, 2006, Zombie became the host of TCM Underground on the Turner Classic Movies channel. It premiered with the screening of a double feature of Ed Wood's Plan 9 From Outer Space and Bride of the Monster. Until January 2007, Zombie hosted a different double bill every Friday night at two in the morning.[14] He also hosted Fearfest '08 for AMC, counting down eight horror films before and during Halloween.
Music video direction
As a guest
Zombie's been a guest on several talk shows including Late Night with David Letterman (several times), Jimmy Kimmel Live! (twice), Late Night with Jimmy Fallon, and even Space Ghost Coast to Coast (while he was in White Zombie).
Zombie also made a few guest appearances in movies: such as Airheads (with White Zombie on stage playing Feed the Gods) and the voice of Dr. Karl (on the phone) in the movie Slither. He did a few voiceovers for cartoons such as the voice of Ichthulthu, a creature from an alternate universe in Justice League Unlimited. He also voices Dr. Curt Connors a.k.a. the Lizard in Spider-Man: The New Animated Series. In the video game Left 4 Dead 2 there is an achievement named after him called "Robbed Zombie" it is earned after picking up 10 bile bombs dropped by dead hazmat zombies.
Filmography
* 2003: House Of 1000 Corpses
* 2005: The Devil's Rejects
* 2007: Halloween
* 2009: Halloween II
* 2009: The Haunted World of El Superbeasto
* 2010: Tyrannosaurus Rex (pre-production status)
Discography
with White Zombie
For a more comprehensive list, see White Zombie discography
* 1987: Soul-Crusher
* 1989: Make Them Die Slowly
* 1992: La Sexorcisto: Devil Music, Vol. 1
* 1995: Astro Creep: 2000 - Songs of Love, Destruction and Other Synthetic Delusions of the Electric Head
Solo
For a more comprehensive list, see Rob Zombie discography
* 1998: Hellbilly Deluxe
* 2001: The Sinister Urge
* 2003: Past, Present & Future
* 2006: Educated Horses
* 2010: Hellbilly Deluxe 2
Guest work
* 1996: Been Around the World single by Puff Daddy (Vocals on "It's All About the Benjamins (Rock Remixes I & II)"
* 1999: Tonight the Stars Revolt! by Powerman 5000 (Vocals on "Blast off to Nowhere")
* (unknown) "halloween (she gets so mean)" by The Ghastly Ones
* 2009: God & Guns by Lynyrd Skynyrd (Vocals on "Floyd")
Solo band members
Current lineup
* Rob Zombie – lead vocals (1997–present)
* John 5 – guitars, backing vocals (2005–present)
* Piggy D. – bass, backing vocals (2006–present)
* Tommy Clufetos – drums, percussion (2005–present)
Previous members
* Mike Riggs – guitars, backing vocals (1997–2003)
* John Tempesta – drums, percussion (1997–2003)
* Blasko – bass, backing vocals (1997–2006)
* PostMortem Matt - Guitars, Programming on Demon Speeding (2001)
American Made Music To Strip By
Educated Horses
Hellbilly Deluxe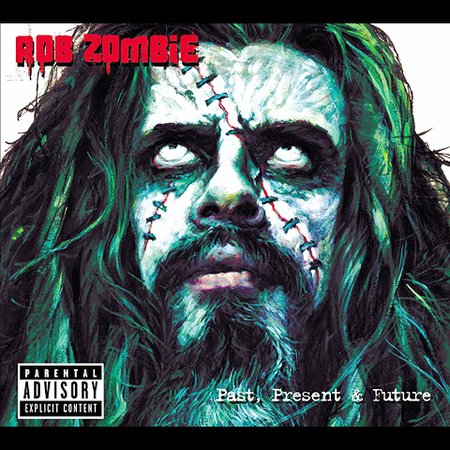 PAST FUTURE PRESENT

The Millennium Collection 2006
The Sinister Urge 2001